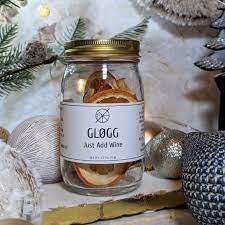 Glogg Cocktail Infusion Kit - Adornwell
Summer is fading, and Autumn is calling our name! Who doesn't love a warm, delicious wine cocktail on a cool Autumn night? Our kit is simple - just add a full bodied red wine to this jar (or grab a bigger vessel to make a large batch using an entire bottle of wine!)  Let the wine infuse with all the flavors of the kit for 24 hours in the refrigerator. Add entire contents of jar into a small pot and simmer for 20 minutes, then strain! We like to pour into a mug and top it off with a little brandy, too! Alcohol Not Included.
Each kit makes 6-8 drinks. All infusions can be zero proof by adding boiling water instead of alcohol. Every kit has a 9 month shelf life from date of manufacturing. Suggested consumption is 30 days after infusion. Best kept refrigerated, but not necessary. Cheers!