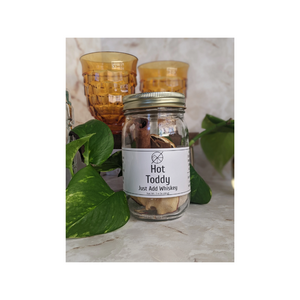 Hot toddy Cocktail Infusion Kit - Adornwell
Who doesn't love a Hot Toddy?! I remember in college on those warm fall evenings gathering with friends around the bon-fire sipping my hot toddy. The memories associated with this little cup of heaven are so much fun to reminisce on. With notes of apple, lemon, clove and cinnamon, this creation is one that everyone will enjoy!
Each kit requires 12 ounces of whiskey (or brandy or rum!). Alcohol not included. Simply add your spirit of choice, shake it up, place the jar in the fridge for 48 hours and strain. The result: Yummy, ready to sip Hot Toddy. Simply add hot water and a dash of honey for a delicious cocktail! Garnish with a lemon slice or a cinnamon stick!