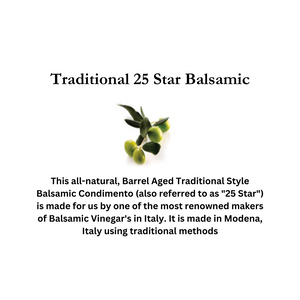 Traditional 25 star Balsamic
This all-natural, Barrel Aged Traditional Style Balsamic Condimento (also referred to as "25 Star") is made for us by one of the most renowned makers of Balsamic Vinegar's in Italy. It is made in Modena, Italy using traditional methods. First quality grape must, which is obtained from whole pressed grapes from locally grown late-harvested varietals is reduced by roughly half and left to ferment naturally for up to 3 weeks. The resulting concentrated grape must is blended with a small amount of premium aged wine vinegar to balance the acidity and matured further for years.
A delicious balsamic with bold balsamic flavor. Aged for 18 years and so thick it can be used as a glaze with no further reduction. Low-prices for high-quality.