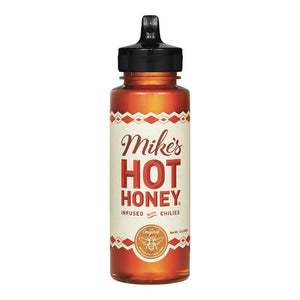 Mike's Hot Honey - Mike's Hot Honey 12 oz
Mike's Hot Honey 12 oz Squeeze Bottle Honey with a Kick | America's #1 Brand of Hot Honey Mike's Hot Honey is a sweet-heat combo of honey infused with chili peppers that adds the perfect kick to all of your favorite foods. Mike's Hot Honey is all natural, gluten-free, paleo-friendly and contains no artificial sugar or preservatives. 
Suggested Pairings Pizza: pepperoni/soppressata, post-oven ricotta/burrata Chicken: chicken & waffles, wings, fried chicken sandwich Cheese: cheese plate, grilled cheese sandwich Dessert: vanilla ice cream, grilled peaches, cheese cake
Cocktails: Margarita, Old Fashioned, Hot Toddy Ingredients Made with 100% pure honey, real chili peppers and vinegar.