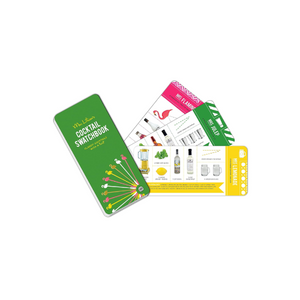 Mrs. Lilien's Cocktail Swatchbook
Beautifully designed in the Pantone swatch book format,

 
Mrs. Lilien's Cocktail Swatchbook

 
is filled with 50 classic cocktail recipes for colorful entertaining.

 
Interent bon vivant Mrs. Lilien takes a fanciful approach to cocktail making in this retro-chic swatch book, which includes 20 recipes for blended cocktails, 20 recipes for shaken cocktails, and 10 recipes for punch bowls. 
 
Every classic recipe is accompanied with a modern twist and chic accouterments. Simply fan the book out to your desired recipe, look at the card, and instantly know which ingredients the cocktail requires from the glossy four-color photographs. The gorgeous cover design (complete with embossed flamingos!) is dazzling on a bar cart, coffee table, or at any cocktail party.
 
Recipes include: Mrs. Palmer, Mrs. Basil Rita, Mrs. Collins, Mrs. Julep, Tequila Granita, Brunch Punch, Senorita Spin and many more!