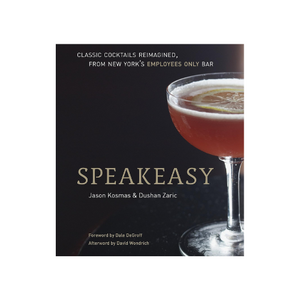 Speakeasy
Time-honored cocktails like the New York Sour and the Sidecar were born during the era of Prohibition, the blessedly bygone social experiment that turned drinking into an underground adventure. In those days, hard beverage options were usually made with homemade hooch and flavorings of dubious origin and quality. 
    
Thankfully, a cocktail renaissance has emerged in many of today's bars, where inventive drinks showcase both the artistry and craft of bartending. At their moody and atmospheric West Village bar-restaurant Employees Only, master mixologists Jason Kosmas and Dushan Zaric can regale you with colorful tales of cocktail origins—or just pour you a mean drink. In 
Speakeasy
, Kosmas and Zaric take their inspiration from traditional favorites, then use the finest spirits, the freshest ingredients, and a good measure of reverence for their craft to elevate the mixed drink to artisanal status. 

More than 80 imaginative libations that riff on the classics are showcased in this one-of-a-kind collection. Recipes emphasize fresh fruits and herbs, homemade syrups and infusions, and a careful balancing of flavors, with a mind toward seasonality. A Ginger Smash is offered in four different versions: kumquat, pineapple, pear, or cranberry, depending on the time of year. The Millionaire becomes the Billionaire with the addition of homemade grenadine and 107-proof bourbon. And the South Side becomes the West Side by replacing the gin with sun-kissed Meyer lemon–infused vodka. With the specter of Prohibition firmly in the past, 
Speakeasy
 shares recipes for the choicest potent potables, reimagining the finest drinks of yesterday for today's thirsty imbibers.