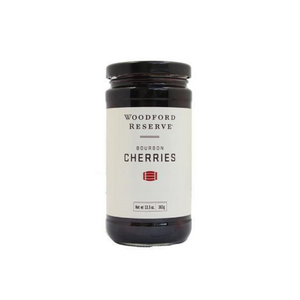 Woodford Reserve Bourbon Cherries
Woodford Reserve is a premiere Kentucky whiskey brand, and one of the most well-known and well-respected names in the bourbon industry.
These fabulous cocktail cherries have been soaked in Woodford Reserve Bourbon to achieve their stellar flavor. The famous bourbon brand cherries are made with all-natural ingredients, unlike other artificial cocktail cherries.
Woodford Reserve Bourbon Cherries are picked by hand in Oregon and possess a deep, ruby red color. These stem-on cocktail cherries make for beautiful cocktail garnishes, such as for the classic Manhattan or the Old Fashioned. Quality cherries are essential for any restaurant, pub, or home bar. Cherry-flavored bourbon syrup can also be used as a delicious sweetener for any of your favorite cocktails!
Ingredients:
cherries, water, sugar, Woodford Reserve Bourbon, fruit and vegetable concentrate (color), citric acid, malic acid, natural flavors. Refrigerate after opening.